Welcome to Raymond Terrace Athletics Centre
www.raymondterraceathletics.com.au
We're located at Vi Barnett Field, Kangaroo St, Raymond Terrace
For cancellation enquiries, call 4983 1407
Our Centre began in 1976. We are a dual registered club, offering competition from Under 6's through to Masters. Our track is considered to be the best grass track in the Region. We have synthetic run-ups for long and triple jump. We are fortunate to have qualified and experienced coaches in sprints, middle distance, walks, hurdles, shot put, discus, javelin, long jump, triple jump and high jump. We offer free mid-week coaching sessions to our athletes.
​We compete from the first Saturday in September until mid to late March. Athletes need to have been born in 2013 or earlier to register with us. There is no age limit – we have an athlete in his 70's! Our athletes range in ability from beginners to Australian representatives; including a Paralympic Champion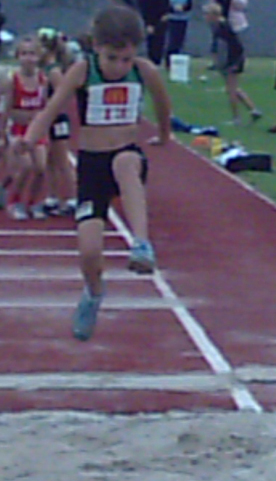 Our primary aim is to bring together athletes and their families in a range of outdoor physical activities with family involvement. At least 1 parent per family is required to actively assist each week.
Emphasis is on "Run For Fun" and the improvement of athletes' own performances. A secondary objective is to provide athletes with a chance to compete at Zone, Regional, State, National and International levels.
Starting times and warm-ups
A warm-up session is held at 8.15am. Athletes are encouraged to participate, as this is a vital part of competition. Even the youngest athlete risks injury without sufficient warm-up, no matter in which event they participate. Weekly meets are held on Saturday mornings.The Under 13 to Masters have long hurdles, long distance walks and runs scheduled at 8.00am. At 8:15 are walks for U9 to U12's. Under 6 to Under 12 athletes begin their other events at 8.30am. Under 13 to Masters athletes begin at 9.00am.
Registration Days
Registrations are taken at our Centre on the last 3 Saturdays in August each year, from 10am till 1pm. We also accept registrations throughout the season.
Annual Competitions
We also host an annual Pentathlon in October. For enquiries, call Deidre on 0418 962 185.